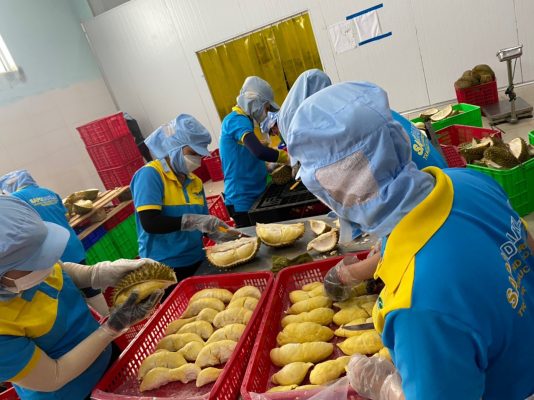 Our Fresh Durian is a good source of fibre for healthy degestion in Viet Nam
No added sugar (See nutrition information)

Excellent source of vitamin 

Frozen for convnience and easy to storage

No artificial preservatives, colours or flavours.
Fresh Durian are selected from fresh materal with high quality and packing to meet export standard. Our Durian is free pesticide
Our Package:
We are packing in PE bag, Plastic Box or other packages as customer's requirement.
Our packages meet EU quality and is certificated BRC.
You can mix to other product such as Fresh Dragon Fruit, Fresh Banana, Frozen Passion Fruit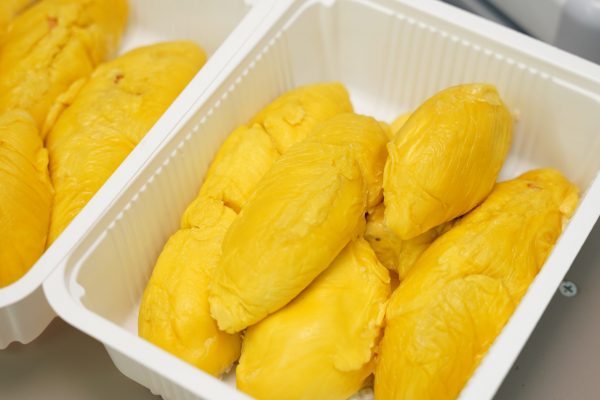 To keep taste and flavor of mango, we should put durian in refregerator if no use
The 5 ways to cut durian:
1. Put on gloves.
When opening a durian, gloves are important for several reasons. For one, they'll protect your hands from the spikes on the outside of the fruit. They'll also keep your hands from smelling like the fruit, which some people find unpleasant. Finally, the gloves will also help you hold the durian steady as you cut into it.
2. Cut off the stem.
Turn the durian on its side and hold it firmly in place with one hand. With the other hand, use a sharp knife to carefully slice the stem from the top of the fruit. Cut off the stem and a small sliver from the top of the shell. Turn the durian over and rest it on the cut edge
3. Locate the seams.
The fruit inside a durian grows in pods, and the shell grows in sections around these pods. As such, the durian will have seams where the shell comes together, and you can open the fruit easily by locating and cutting the seams
4. Make deep scores in the shell at the seams.
For durians that aren't perfectly ripe, use a sharp knife to carefully cut along the seams of the fruit. Start with a shallow cut, and then cut progressively deeper until the sections of the shell start coming apart. Cut the entire length of the seam. Repeat with each seam in the shell.
5. Pry the shell apart.
Once you've made cuts deep enough in the seam that you can open the shell, put the knife down. Pick a seam to start and stick your thumbs or fingers on both sides of the opening. Pull the seams away from each other to open the shell and reveal the pod of fruit inside
ENJOY our fruits !!!
If you have any question to us, feel free to contact us following information in below:
Manufacturer: SAPO DAKLAK CO.,LTD
Hotline: (+84).76.279.0789
Email: info@sapodaklak.com
Website: www.sapodaklak.com